Rainfall is the main source of water for augmenting ground water levels, soil moisture and surface water. Water is essential for agricultural activity, for growing fodder to feed livestock and to fulfill domestic requirement of all humans.
Rainwater harvesting has been a natural tendency in all ancient Indian and other civilizations in different parts of the world and has been practiced for more than 4000
years because even in those times the people recognized the fact that without water no form of life is possible on earth.
The Indus Valley Civilization settled on the banks of the Indus River and other parts of western and northern India about 4500 years ago had one of the most sophisticated
water supply and sewage systems in the world
The people of the Thar Desert in Rajasthan designed, developed and constructed many different structures for Rain Water Harvesting and among them; the most Common Rainwater collection technique has been through the 'Tanka' system
Tanka is a paved underground tank of differing shapes from square, rectangular to usually cylindrical, having holding capacity ranging from 1000 liters to 1,000,000 liters
The traditional construction material also varies from simple mud plaster to lime mortar or cement mortar. On top of the tank there is a roof cover with mild slope towards the center where there are inlet points to let the rain water falling on this catchment surface flows into the Tank (Tanka). There is also a covered opening from where the water is drawn using a rope and bucket as and when water is required.
Apart from the roof surface of Tanka which acts as catchment for rain water, even rainwater from house rooftop, courtyard or artificially prepared catchments flows are diverted towards the Tanka.
The water collected in a Tanka is highly valued commodity for every member of the family and is used carefully so as to ensure that it lasts for many months – sometimes even till the subsequent monsoon…
A Tanka and the water it brings to households in an arid zone provides water security and saves family members (specially the rural womenfolk) from the burden of traveling long distances to get water for every day requirements.
SILVERON, in the year 2003-04 built two Tankas funded by Coca Cola India at Kaladera village and these were inaugurated by Hon'ble Justice B.N. Kirpal, former
Chief Justice of India.
Rainwater Harvesting Tanka constructed by Silveron at Post Graduate College
(Storage Capacity: 200,000 litres)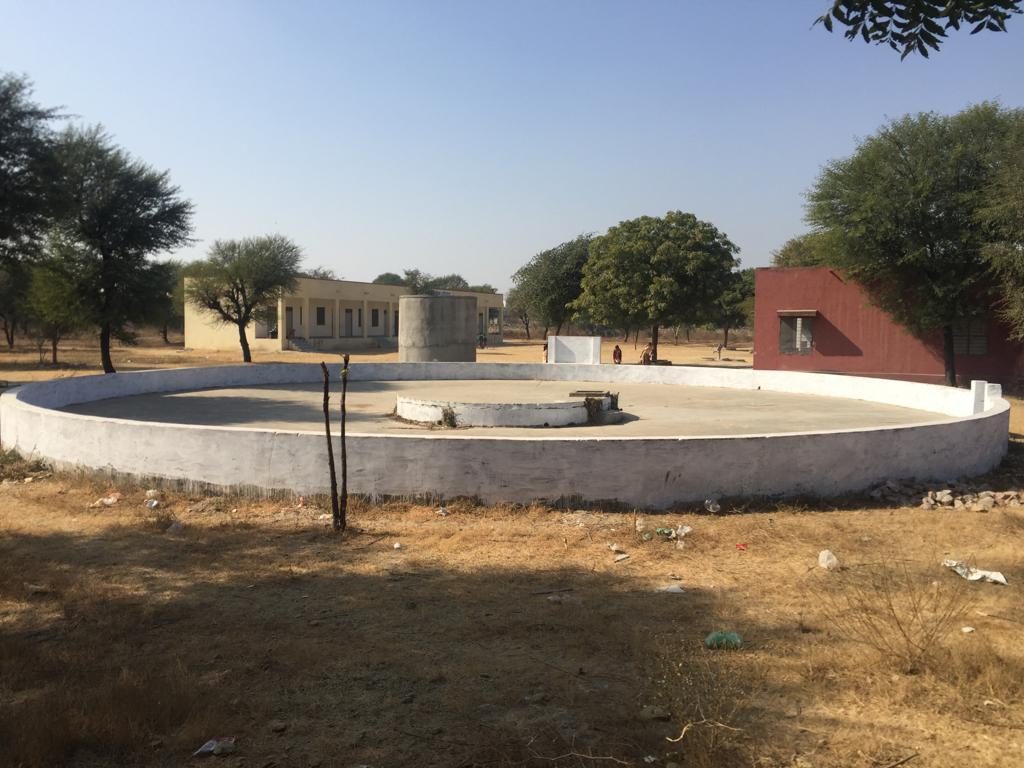 SILVERON did not build small prototype models but instead constructed big practical structures which are still operational. The rain water falling on the roof of the school/college building also finds its way into the tanks.
Apart from collecting rain water in the Tanka – Team Silveron also made provision of taking the over flow of the water from the Tanka (in the event of heavy rainfall) by a PVC pipe to a Ground Water Recharge Shaft near the school hand pump.
These two Tankas were built in educational institutions so that the students could see and understand all aspects of rain water harvesting from roof top catchment – channelizing the runoff – storage on surface – recharge into the ground.
Such old time water harvesting systems can still be seen along Naneghat in the Western Ghats. Every fort in the area had its own rain water harvesting and storage system that are still in use today. Forts like Raigad in Maharashtra and Jaigarh at Jaipur near Amber have tanks built in their courtyards that collected and provided water.
Seeing the Tanka from the Thar Desert of Rajasthan, India to the Tanka at El Morro Fort, old San Juan, Puerto Rico we must salute the spirit of our ancestors and attribute the Tanka as a rainwater harvesting technique ingenious to the men who desired to survive in the toughest conditions.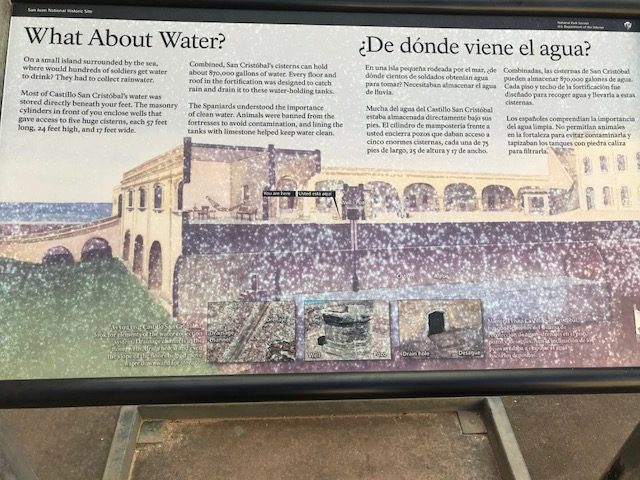 Castillo San Felipe del Morro Courtyard

Well to draw water from Rainwater Storage Tank
Rainwater can be a reliable source of water if collected from runoff areas such as roofs
and other surfaces and stored appropriately. If the catchment area is big, this system can provide huge quantity of good quality fresh potable water.