The Ranthambore National Park is situated at the confluence of Aravali and Vindhya mountain ranges i.e. the Great Boundary Fault in Northwestern India. It is a unique and highly bio-productive terrestrial ecosystem that enables all levels to optimally sustain life. In this ecological wonderland, The Royal Bengal Tiger  flourishes in its best form.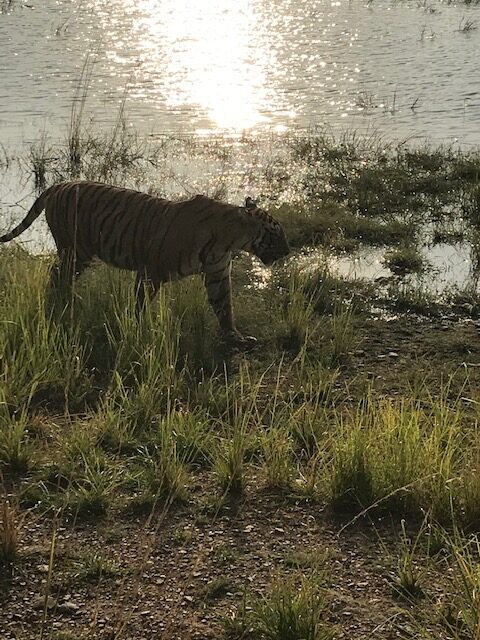 The Ranthambore Tiger Reserve situated within the park is the western-most habitat of the majestic Tiger in the Indian subcontinent. The park is spread over 1700 km2 spanning Sawai Madhopur, Karauli, Tonk & Bundi districts of the Indian state of Rajasthan.
The park is bounded by the Chambal river in the west, which is one of the least polluted perennial rivers in the world. The seasonal rain-fed Banas river bisects the park. With the passage of geological time the Aravalis, one of the oldest mountain systems of the world, have weathered to yield more soils. On the other hand the comparatively younger Vindhyas have withered much less and support the growth of unique flora in the region.
This rich landscape is a major hub of biodiversity. It is home to viable populations of six species of predator cats (Tiger, Leopard, Desert Cat, Jungle Cat and Fishing Cat). Large populations of Jackal, Wolf, Hyena, wild dogs and marsh-crocodiles also rule over a food-chain with over 40 mammal species, including spotted deers & rare antelopes (such as Black-Buck, Chinkara and Blue bulls), 320 bird species, 40 species of reptiles and 402 species of plants.
Not so long ago, there existed many such forests along the foothills of Aravali and Vindhya mountain ranges. Unfortunately, owing to human population pressure and interference many such habitats have been lost.
It is worth noting that because of positive human intervention, the plateau of Ranthambore forest remains as the only big expanse of dry deciduous Anogeissus Pendula forest in India.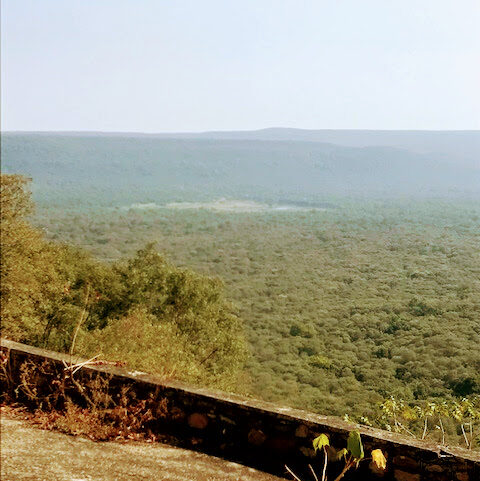 Modern conservation adopts the approach that natural forests should be left alone since it is a self-sustaining ecosystem. However, by artificially limiting the area for natural expansion and growth of forest cover, human activities continue to hamper nature reserves.
This can be observed by the ever increasing number of villages and settlements not just along the boundaries of forest reserves but also squeezing into forest areas for fodder and space.
In this era of nature conservancy, humans are still forcing increasing animal populations to get confined in smaller areas where they may become vulnerable and extinct due to natural infections, diseases and even greater competition for food and water.
Tiger Conservation at Ranthambore
Ranthambore is known for its large population of the endangered Royal Bengal Tiger. During the past few years, there has been a steady increase in the Tiger population in Ranthambore where the present tally is around 55.
This has been possible due to the multi-fold, dedicated efforts of the forest administration, use of modern surveillance technologies across the reserve, and continuous manual monitoring including fortnightly stock taking of wild animals.
The sincerity, commitment, passion and emotional attachment of the forest officials to this noble endeavor can be seen from top officials to the frontline forest guards posted round the clock at various check posts (Nakas) deep in the forest reserve.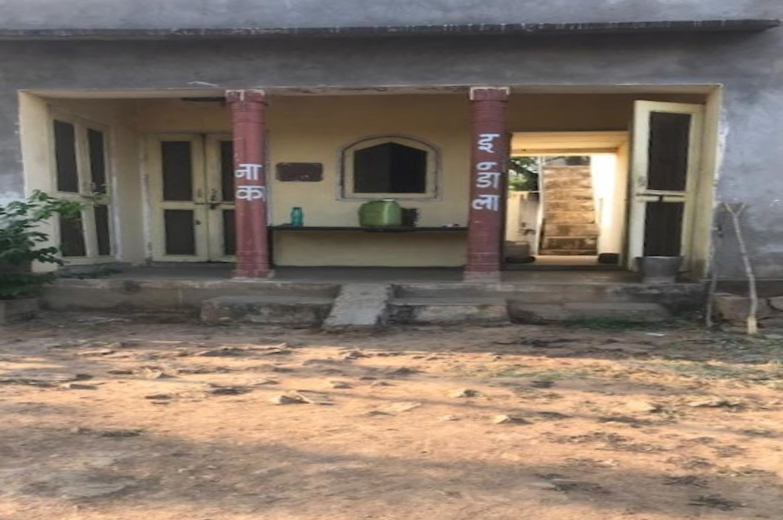 The growing tiger density in Ranthambore forest has already paved the way for relocating some tigers to strengthen tiger populations in other reserves such as Sariska & Mukundra in Alwar & Kota districts of Rajasthan.
Ranthambore's Climate, Topography and Water Crisis
The Park has a dry climate with three well defined seasons – summer, winter and monsoon. The hot & dry summer months last from March to June with maximum temperatures around 45℃, negligible relative humidity and hot dry winds. Winter generally lasts from late October till February with the temperature often ranging below 10 ℃ to 20℃. The monsoons with average annual rainfall of 800mm and about 35 rainy days per year, last from July to September.
The park landscape varies dramatically from the vertical slopes (cliffs & knolls) to the sharp and pointed hills as the geography changes from Vindhyas to Aravali ranges.
The park has an approximate elevation ranging between 300-500 meters above mean sea level with mostly rugged and hilly terrain. The Aravalis have ridges on one side and gentle slopes on the other with few small plateaus and valleys. Gazella Peak, the highest peak of the Vindhyas, has an elevation of 507 m.
The top tableland, locally called Daang & valleys called Kho are prominent geo-features dotted with springs & geysers. These valleys are the richest wildlife areas of the reserve making them favorite spots for the tigers.
Most of the narrow, seasonal monsoon-fed water streams are very short lived. The streams flowing in the northern tract drain into the Banas river and ones on the southern tract drain directly into the Chambal river.
The deep, long and narrow gorges created due to erosion caused by these short-lived streams has created ravines that are prominent features valuable in enhancing the flora and fauna of the region.
Water scarcity for wildlife in long dry-spells and peak summer months is a cause of serious concern for forest officials. This is especially critical for territorial predators such as Tigers and animal groups that cannot migrate large distances in search of water.
Solving the Water Crisis with SILVERON
On the official invitation of Sh. Arbind Kumar Jha, Asst. Conservator of Forests at the Ranthambore National Park, our CEO Sh. Sunil Sharma visited the Tiger Reserve on Oct. 24-25th, 2020. The purpose of this visit was to understand the landscape and explore possibilities for water conservation to combat scarcity of water for wildlife especially during peak summer months.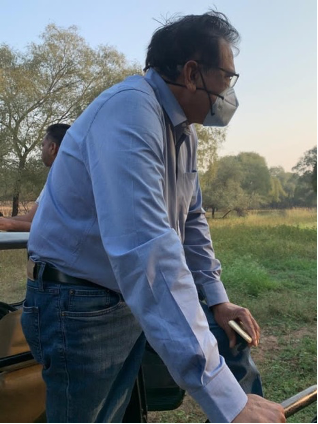 The early morning session gave a general feel of the forest and as luck would have it the day began with these lovely welcome sights.
The afternoon was spent touring interiors of the deep forest to gather insights on the scale of water scarcity and possible remedies.
The forest area calls for proper water management to ensure enhanced quantity of available water. This includes hydro-geological studies, stage-wise implementation of solutions and evaluation extending over multiple monsoons. It is also important that only minimal intervention is made and that too only in support of the existing natural systems.
At SILVERON we firmly believe that rainwater is an invaluable local resource and every effort must be made to manage, recharge and effectively use the water where it falls. Since fresh water becomes scarce, the logical approach would be to effectively control and utilize rainwater as far as possible before it is lost to runoff.
Based on observations from the site visit, here are recommendations we are working on developing:
Developing Bunds: The park is situated in a low-rainfall region with thin alluvium. The hilly terrain and steep to mild slopes facilitate rapid rainwater runoff. It is important to identify sites and make intermittent hurdles in the flow path using available stones and bush across small gullies and streams.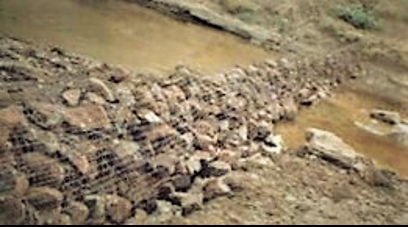 The spacing between these bunds will be decided by soil permeability and angle of slope at each site. The bunds must be closer on steeper slopes where permeability is less. This will prevent flowing water from attaining erosive velocity thereby conserving soil moisture.
The accumulation of small quantities of water behind the bund also facilitates percolation wherever possible. This technique allows harnessing rainwater locally and reduces erosion through runoff.
Recharging through abandoned bore wells: The park has a number of bore wells that were abandoned due to non-availability of water. These boreholes can be re-developed into groundwater recharge structures. Small streams flowing nearby can be guided towards such boreholes.
Rainwater percolating through these structures would find fractures at various depths and develop flow paths to enrich groundwater levels.
Rejuvenating Shallow Dug Wells: A number of shallow dug wells are scattered throughout the forest. These wells get their water through percolation from rock fractures and water levels in them keep declining in the post monsoon months.
These dug wells, some even managing to retain water throughout the year, are an important lifeline for wildlife. Each such well should be numbered and monitored on a monthly basis to ensure effective use of waterstock.
Dilapidated shallow wells should be restored, de-silted and cleaned to increase their holding volumes and prevent collapse. Further, repaired dug wells should be covered using secure frames and strong wire mesh to prevent these wells from becoming safety hazards for thirsty animals.
New well locations can be identified on the downstream side to collect and preserve more rainwater before run-off.
Rainwater Collection and Transportation: During monsoons, surface water is plentiful in small or large ponds and depression areas specially on the down stream side. This water can be effectively transported and used in times of need.
The forest does not have tall trees and the major fire risk is from dry grass on the ground. This threat is especially severe seasonally during the long dry-spells.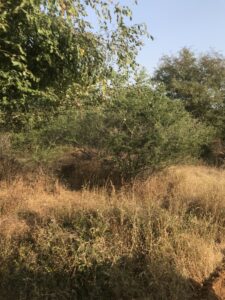 Water tankers can be placed at designated Nakas to transport water to locations running short of water. These tankers can be especially useful to extinguish bushfires or other emergency uses.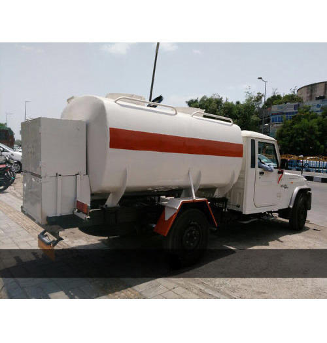 This technique improves availability of emergency water supply and reduces stress on natural reservoirs especially during the dry season.
Adopting solar water pumps: Replacing diesel pumps at wells with solar water pumps would also go a long way in reducing pollution, noise and wastage of water. With set levels, solar pumps can be programmed to extract only limited quantities of water each day.
The extra generated power can be leveraged to deliver water via pipelines to other areas or to higher locations for storage or pumping.
In the first phase, SILVERON offers to provide Ranthambore National Park services of their experts, material and manpower at no-cost to design & demonstrate methods of recharging abandoned boreholes and rejuvenate & equip existing wells with solar pumps.

This effort is a reflection of our commitment to conserving India's natural biodiversity and the majestic Royal Bengal Tiger.