Those working in bureaucratic work environments such as large government departments or corporate offices may have often observed a unique phenomenon of passing the buck around and seeing those who do so get rewarded along the way.
This cycle of offloading critical decision making by delegating it to committees of subordinates working on stringent deadlines with vague objectives is ultimately only a way of shedding responsibility. The objective of passing the buck around is to avoid taking risks and as a consequence never being wrong.
This short-sighted system empowers those who do not take real risks but are experts in asking others. In this system, if a task succeeds & the risk pays off – those who perform it get much less credit while those who allotted the task claim all the credit.
Coming to our subject WATER – we observe a similar pattern.
At a time when almost the entire country and specially major metros like Delhi, Hyderabad, Bangalore & Chennai are reeling under severe water stress and scarcity, our civic bodies & water resource management agencies seem to forget that they owe us an explanation as to why such a situation crops up year after year and what measured have they taken in the previous years to prevent such a dire situation?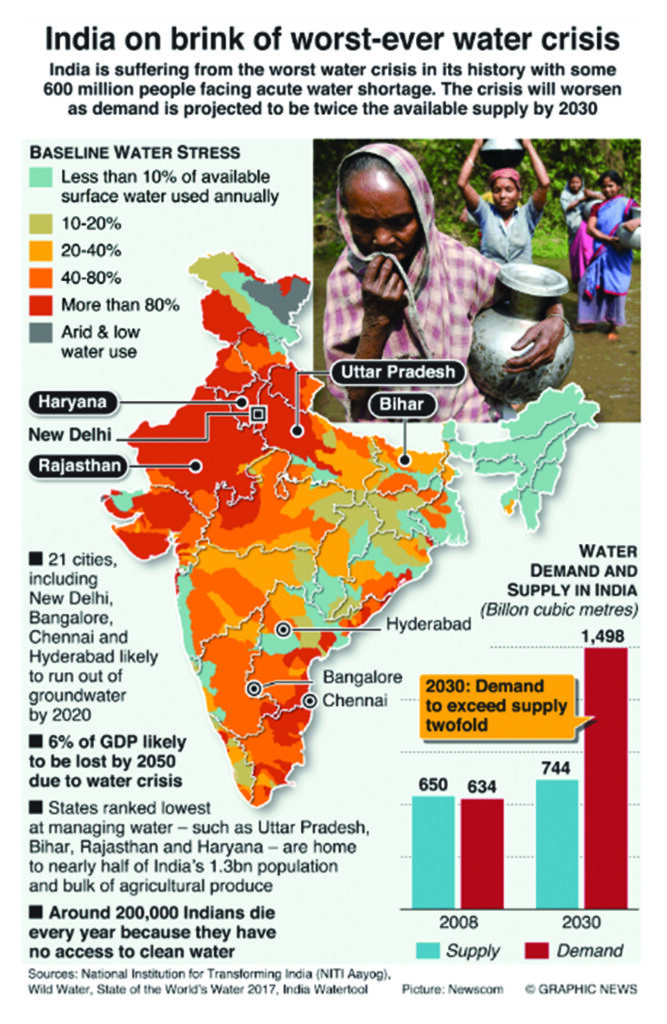 Nature has been kind to us with the stronger than expected monsoon season in 2019. The plentiful rainfall in this season has at least given us some respite from the most severe crisis experienced this year. However, the water crisis & dire warnings around depleting ground water levels are a wake-up call to preserve our water resources.
We need to develop systems to manage, harvest and conserve rainwater which could be used later in times of scarcity.
Interestingly, when it comes to conserving and harvesting rainwater, our civic bodies and municipal authorities are passing the buck around on to ordinary citizens to make immediate arrangements to recharge rainwater or else in some cases even risk fines.
We must realize that the number of defunct rain water harvesting systems all over the country far outnumber the perfectly working systems simply because Rainwater Harvesting is not as simple as it may look. Rainwater harvesting and ground water recharge require development of site-specific designs based on the survey of local conditions, soil analysis and study of nearby structures and topography.
Ironically, when pressure is exerted by the civic bodies on ordinary citizens to construct and show their rain water harvesting systems, the first thing that happens is that inexperienced contractors come up with impractical or incomplete designs that are not in line with the principles of artificial ground water recharge process. At times people themselves try to simply make cheap structure as an eye wash.
We have observed that even some of the rain water harvesting structure designs provided by the civic authorities are only theoretical and have apparent flaws as these designs have not been time-tested over many monsoons.
All this chaos leads to absolute failure of the purpose of the regulation and wastage of resources. The civic bodies & water-supply departments that extract ground water and supply water to industries, homes and institutions have not even setup recharge infrastructure to the replenish the quantity of water for which it has billed the public.
Public accountability should require that our municipal agencies declare the total quantity of water pumped out along with the recharge potential created by them.
When there are piezometers in every area our electricity and water bill should also mention the ground water level in the billing area so that people know their water table and the gravity of the situation.
The government agencies at Center, State and local levels should engage with experts and develop designs for large-scale public infrastructure for rain water harvesting using scientifically designed and tested methods.
The success of SILVERON rain water harvesting designs is a result of decades of untiring experimentation along with experience and learning using scientific methods.